Events System Revamp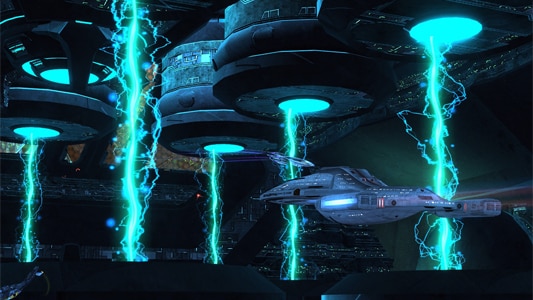 Star Trek Online Season 8 STO MMORPG F2P Sci-Fi MMO Game Legacy of Romulus
One of the many improvements we are making to Star Trek Online in Season 8.5 is an overhaul for the events system. We originally intended the hourly event system in STO to guide players to fun and unique content, and, more importantly, to give players who may not have a clear goal for what to accomplish in a given play session a suggestion on where they could start. However, in the year and a half since this system was first introduced, there have been huge updates and improved messaging throughout the game to tell players about content they might be interested in completing. Between Fleets, Reputations, Adventure Zones and Seasonal Events like Q's Winter Wonderland and Risa, there are very few players without an idea of what they want to do when they log into STO.
We were able to confirm our suspicions by data mining player habits and seeing that very few of the hourly events are being played regularly. As a result, we want to refocus the event system to be about bringing the community together. To accomplish this, we are going to increase the rewards dramatically. The recent Dyson Sphere Weekend is a great example of our change in direction. By giving between a 50% and 100% bonus to mark rewards, we saw lots of players playing together and participating in the event.
To compensate for the increased rewards, we will be running these events less frequently. Instead of having a new event run every hour, we will be running events for several days centering around a weekend. While the events will be less frequent, the larger rewards, along with the extended time they'll be active, should net larger returns for all players.
We've also taken a look at what players who actually use the hourly event system are trying to acquire. Some of the first events we plan to roll out address players' desire to earn extra Marks, Dilithium, Skill Points and Expertise. The new weekend events meant to address these desires also make earning these valuable resources easier by letting players earn them throughout larger portions of the game. Additionally, we've updated some of the more popular missions that can be found currently as hourly events into daily missions (e.g. Tour the Galaxy).
This is the first step in a new system that we hope to add to. We will be taking a close look at how each of these events performs and community feedback – we'll take both into account when making new events or updating existing ones.
In the end we hope to make Star Trek Online something you're excited to be playing every week. See you in-game!
Charles Gray
Lead Content Designer
Star Trek Online