Romulan Republic Personnel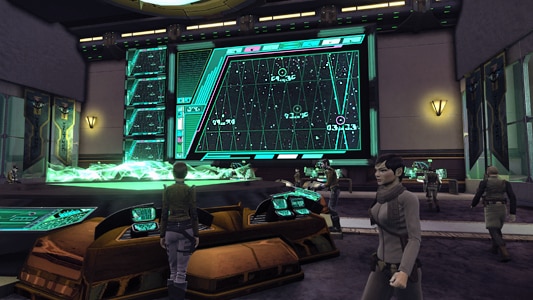 With the launch of Legacy of Romulus, players of the Romulan Republic faction will gain access to faction-specific Bridge and Duty Officers, in addition to those of their allies. There have been several questions about Romulan Republic personnel that have come up, so I'd like to take the time to answer some of those in this Dev Blog:
How are Romulan Republic Duty Officers different from those available to Federation and Klingon Defense Force?
Romulan Republic Captains are the only characters that can recruit Romulan and Reman species duty officers. While these species are occasionally seen serving aboard Federation or Klingon vessels, obtaining those particular officers requires meeting a series of difficult assignment requirements, obtaining them from rare packs, or purchasing them from players that have done so.
Additionally, Romulan Republic Duty Officers display a separate rank system and a different item overlay than their Federation and Klingon counterparts.
Although these Duty Officers can be traded freely, they may only be used by Romulan Republic Captains.
How do Romulan Republic players gain access to additional Duty Officers?
There is a Duty Officer Recruitment contact located at New Romulus Command that can assist with all of your recruitment needs. The recruitment assignments she offers can only be ran by Romulan Republic Captains, and will always reward Romulan and/or Reman Duty Officers.
Romulan Republic Captains may also run recruitment assignments offered at the Academy of their chosen ally.
Do Romulan Republic players have their own Bridge Officers?
Yes. White quality Romulan Bridge Crew may be recruited by visiting a vendor located at the Romulan Flotilla. These bridge officers come with the unique species traits available to the Romulan species, and cannot be recruited by Federation or Klingon Captains.
Are there any additional means of obtaining Bridge Officers?
Romulan Republic Captains spend their early adventuring days recruiting a dedicated crew of specific Bridge Officers, including their companion, Tovan Khev. Upon choosing an ally, they will also be granted a random Bridge Officer to act as their liaison with their new ally (a Federation or Klingon Bridge Officer). After this point, Romulan Republic Captains continue to receive new crew transfers from New Romulus Command as they level up, occasionally being granted a choice of new Bridge Officers to join their crew.
They may also manually recruit FED or KDF bridge crew by visiting the home port of their chosen ally.
Have more questions? Post them in the forum thread linked below and we'll answer as many of them as we can. We are very excited for the launch of Legacy of Romulus this month and can't wait to see you all in-game on your new Romulan Republic characters on the 21st. See you in-game!
Jeremy "BorticusCryptic" Randall
Systems Designer
Star Trek Online