=/\= BEGIN STARFLEET TRANSMISSION =/\=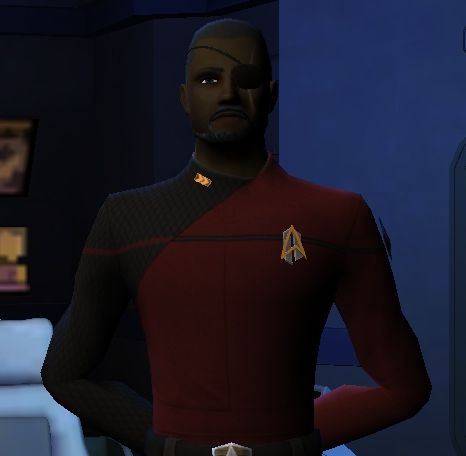 PERSONNEL FILE
Name; Pyriel Danto
Rank: Rear Admiral
Race: Half Human and El-Aurian
Sex: Male
Birth date: 2302
Age: 106 (looks early 30's)
Height: 192 cm
Weight: 83.9 kg
Hair Color: Black
Eye Color: Jet Black
Skin Color: Dark Brown
Marital Status: Married
Spouse: Jonjah Danto
Parents: Dr. Faydon (El-Aurian) and Lt. Dawn Danto
Service record:
2324- Accepted by Starfleet Academy
2328- Graduated from the Academy majoring with security and psychology
2328- Assigned to the USS Atlanta as a security officer
2330- Promoted to LTJG
2336- Reassigned to USS Tempest
2350- Resigned his commission
2351-55 (CLASSIFIED)
2355- Rejoins Starfleet Promoted to LT.
2356- Reassigned to Starfleet Intelligence
2356-65 (CLASSIFIED)
2365- Promoted to LTCDR Assigned as 1st Officer of the USS Archangel
(defiant class)
2373- Reassigned to Starfleet Intelligence
2374-75 (CLASSIFIED)
2375- Transfers to Deep Space 4 as Intelligence Officer
2378- Meets Lt Jonjah
2380-Marries Jojah
2383-88 (CLASSIFIED)
2389- Promoted to CDR
2392-Assigned as Commanding Officer of the USS Tuskegee
2396-The USS Tuskegee is reassigned to the new outpost Serenity Station
2399- Wounded in the line of duty .Left eye replaced with a bionic one.

2399- Promoted to Captain of the U.S.S Oberon
2403- Promoted to Admiral
2405- Assigned as Commanding Officer Of the U.S.S Rogue Shadow
2405- Rogue Shadow Lost in a firefight with *********
2405- Enemy ship that was stolen from G&K shipyards is recovered by Admiral Danto and team , the unnamed ship is later named , U.S.S TUKEGEE NCC-91941-A.
2410- Promoted to Rear Admiral and Assigned to the USS. Ascension NCC-991950
Personal notes
He loves to play the trumpet and listen to old Earth jazz ,and loves to cook.
He is fiercely loyal to his wife, friends and his crew.
He practices Musō Jikiden Eishin-ryū
http://en.wikipedia.org/wiki/Mus%C5%8D_Jikiden_Eishin-ry%C5%AB
He also practices the martial art of Krav-Maga
http://en.wikipedia.org/wiki/Krav_Maga