Star Trek Online STO MMORPG F2P Sci-Fi MMO Game Legacy of Romulus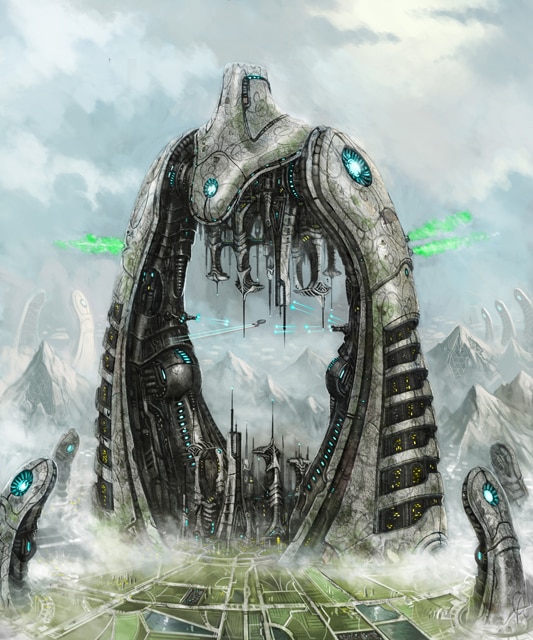 Concept Art
Greetings Captains!
Star Trek Online continues to boldly go into the future. Now that we are a few months into the Legacy of Romulus expansion, it is a good time to provide some insight into what the development team is focused on and share some details about what is coming down the road.
First of all, thank you for continuing to support STO. The game has had an impressive period of growth over the last year and we are happy to say that we have a great number of new players as well as returning players back in the game creating and playing the new Romulan faction. We have also seen a great number of new Klingon captains join the ranks of the KDF and experience the game from a different perspective. The expansion has been a great success for the team and we are eager to continue developing new episodes, content, and systems that will expand the game further. We also want to thank our many subscribers who choose to support the game through a monthly sub. We are happy to announce that the Romulan veteran reward will be releasing within a few weeks and will provide an awesome new ship, costume and more for our Romulan veterans.
We have learned a lot over the course of making the Legacy of Romulus update and have spent the last couple of months reviewing your feedback and addressing issues that were introduced with the expansion. It is great to have such an active community that is willing to share their opinions and even email us directly about features that would make STO even better. MMORPGs are living and evolving games and many of the updates that are introduced to the game can be traced back to player feedback and comments. So please continue to share your thoughts about the game and how we can improve your experience. We can't always change something overnight, but we do value your input because it makes the game better in the long run.
We also hope you have been enjoying the recent changes to the planet Risa. We are thankful for all the great feedback we have received about this new seasonal event, one of the biggest being the requests for swimwear. It is our goal to be able to introduce more seasonal outfits, including swimwear, when we update the event for next year. Much like the Winter Event, we will continue to add new features and rewards every time the event rolls around, so look forward to some great additions to both events in the coming year. Additionally, we will also be extending the time needed to get pearls by a couple of days for those who may have missed a day – the new end date has been moved from August 2nd to August 4th, 2013 at noon PDT.
As we move into the second half of this year, the team is hard at work on the updates that will launch between now and January. The next major update to the game will be Season 8, and it will be releasing later this year.
Much like Season 7, this next season will be focused on new end-game missions for all factions. It will introduce our first Space Adventure Zone along with several new events designed to challenge maximum level captains by facing off against a deadly new enemy that was introduced in Star Trek: Voyager. We will also be introducing a new fleet holding and updated reputation system that plays a more integrated role in the entire season. The new Reputation will represent a major shift in how the reputation system rewards players, taking into account much of the feedback and comments about the existing reps by adjusting the way project and reward structures are integrated, hopefully making it much more approachable than some of the previous systems.
Prior to the release of Season 8, a new Feature Episode will be released that bridges the story thus far with where we will be going in Season 8 and beyond. It will advance the Iconian plot and offer some great new surprises that will set the stage for what is going to happen next. This episode will be playable by all factions and will continue the story for a few of our favorite characters.
Later this year, Q will be making a triumphant return in December to kick off the 3rd annual Winter Event with a new event and new prizes. We have heard rumors that the snowmen from this past winter will be returning in a big way, so keep those snowball cannons at the ready.
And finally, we are excited to announce that STO will also be making a major investment in Gateway to bring some great new features to web and mobile devices that both enhance and expand STO gameplay.
That is just a brief view of what the team is working on for the next several months, but our plans go well beyond. As we move into 2014, the game team will continue to deliver great updates to Star Trek Online that will move the story forward, introduce more advancement options, and expand existing game systems. We even hope to finally tackle Exploration in a much better way!
Every year, the game gets bigger and we are able to deliver more and more features and missions for everyone to play. We expect to be doing this for years to come and thank you for helping this game grow into a great MMORPG.
So as we look forward to the future, we would like to provide another opportunity to see if we are all thinking along the same lines about what might come next – visit the link to the forum post below to participate in our latest poll!: Which Trek series' ships, characters, species, and stories, would you most like to see more of in a future STO Expansion?
Until next time, live long and prosper!
Daniel Stahl
Executive Producer
Star Trek Online